At Truveta, we're proud to show off our employees and their ingenuity. As part of Planning Week, we held our first official Truveta Hackathon to promote knowledge sharing, foster creativity, and encourage our team to embrace new solutions.
We invited the entire organization to form small teams to collaborate and build new projects or features, find ways to improve work or identify cost savings, and have fun together. The teams spent 20 hours last week building working demos and presentations of their ideas. A group of judges narrowed the projects to eight contenders for live demos and the chance to win the first Truveta Hackathon championship.
Projects spanned from addressing how traffic flows within Truveta to enhancing cloud efficiencies. Others worked to enable custom dashboards for favoriting and following key researchers, while another worked to make research more collaborative with real-time comments to increase user collaboration and engagement — even creating Truveta's first emoji,

. Still another found new ways to test net new code, saving costs and cloud resources. One team built visualization capabilities of genomics research and yet another built a dashboard for data visualization across ingestion, de-identification, and normalization. Another created an efficiency hack that would allow Truveta to set up a new service in minutes, rather than multiple days — a dramatic cost savings.
Across all teams, Truvetans demonstrated the ability to create new efficiencies, features, and enhancements to delight customers and internal teams alike.
Sindhu Mullapudi, one of our software engineers, organized the Hackathon and led teams through the process. "The objective for this Hackathon was to enhance and emphasize our culture of innovation and collaboration," Sindhu said. "We wanted to give everyone a chance to work on their passion projects at Truveta and inspire others to do the same. I'm so glad I had this opportunity to work with all these amazing people while putting this together!"
Jay Nanduri, our CTO, served as the executive sponsor, saying, "As this was our first Truveta Hackathon, I was surprised there were 23 projects, with 50+ people across all participating teams. The kind of passion I've seen is unimaginable. We've seen projects span from testing, deployment, apps, to the researchers. The distribution of the projects was very interesting."
Congratulations to the following Truvetans for their ideas and projects — and unlocking bragging rights as winners of the first Truveta Hackathon.
Data Pipeline Visualizer
Real-time Commenting on Studies
Cloud Cost Modeling and Savings Advisor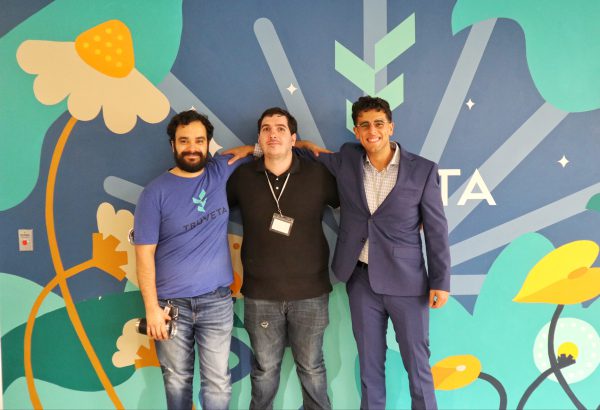 A few members from the third-place team (L-R): Dan Rico, Nathan Johnson, and Robert Pimentel.
A huge thank you to all who participated!