Truveta and Lexis Nexis Risk Solutions partner to create the most complete, highest quality U.S. public health data platform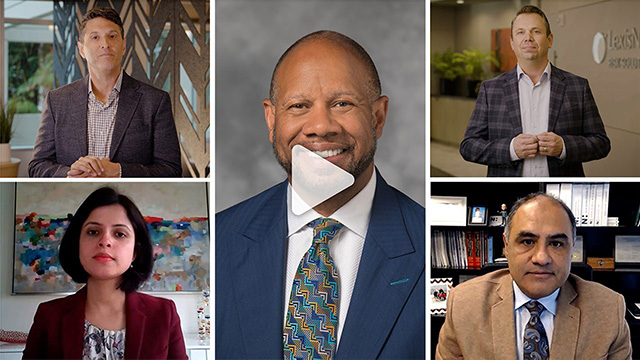 2022 is off to a rough start with this Omicron variant. I continue to be in awe of the healthcare community who continue to work tirelessly to care for the sick. I am grateful for the scientists and researchers who created the vaccines that have protected so many from serious health implications. The confusion coming from the disruption of our daily lives – combined with worry for our loved ones – is stressful.
But as the pandemic rages on, one thing continues to be very clear – incomplete and poor-quality data has slowed the pace of medical innovation and impeded patient care. In particular, in the U.S., we are relying upon data from other small countries to make incredibly important decisions for U.S. health. This is not unique to COVID; we don't have great data on any medical condition.
Truveta was founded by innovative health systems to address this, bringing together their clinical data to create a data platform representative of the diversity of our country. Now today, I'm excited to announce that we are advancing our mission by partnering with LexisNexis Risk Solutions to create the most complete, highest quality U.S. public health data platform by addressing two fundamental issues:
Health data is fragmented, which leads to incomplete data for analysis. Our health care records are distributed across the many different providers we see. Then, there is the challenge that due to name changes, misspellings, and people moving, there are over 5 billion variations of identities for 285 million Americans. And only one third of us will die in a hospital, leaving mortality out of our medical records, and arguably, death is the most important health outcome to understand, especially on a timely basis.
Health care data doesn't include social factors, such as where people live, learn, work, and play that affect a wide range of health and quality of life risks and outcomes. This contributes to an incomplete picture of healthcare and challenges our ability to address health inequities.
Improving data quality
This all comes back to trust. We are working tirelessly to improve the quality of the data in the Truveta Platform, so we can trust the results from analyzing the data to make critical decisions for our own families.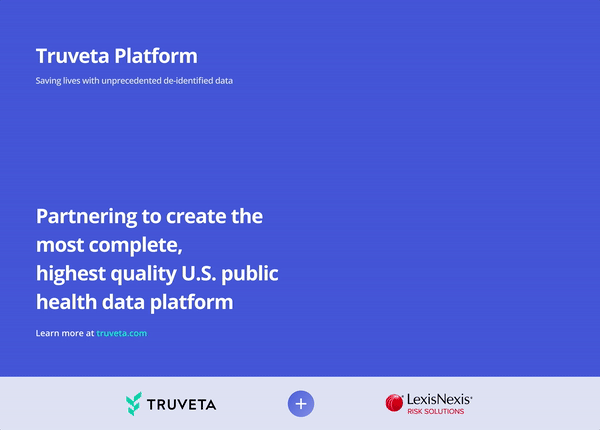 For the first time, Truveta and LexisNexis are bringing together for medical research their unprecedented de-identified data, including:
Daily clinical data from Truveta's health system members, who provide over 16% of all clinical care in the U.S.
40% of all Medicare and Medicaid insurance claims and 70% of all commercial medical insurance claims to provide a more complete view of patient journeys, including care data provided outside of Truveta member systems
Daily updated mortality data and obituary analysis across the U.S.
Comprehensive socioeconomic data on every adult American to complement the age, race, ethnicity, and gender data from the medical record already available in the Truveta Platform
All de-identified, de-deduplicated, normalized for analysis, and accurately connected together
Data quality suffers when data is incomplete, duplicated, or missing entirely. Truveta now offers a data platform of unprecedented completeness to learn how to advance patient care.
Shining a light on health equity
The COVID-19 pandemic also put a spotlight on the health inequities that have long-existed in our nation. Some communities of color, particularly African American and Hispanic communities, have been between two and three times more likely to die from COVID-19 than were their Caucasian counterparts.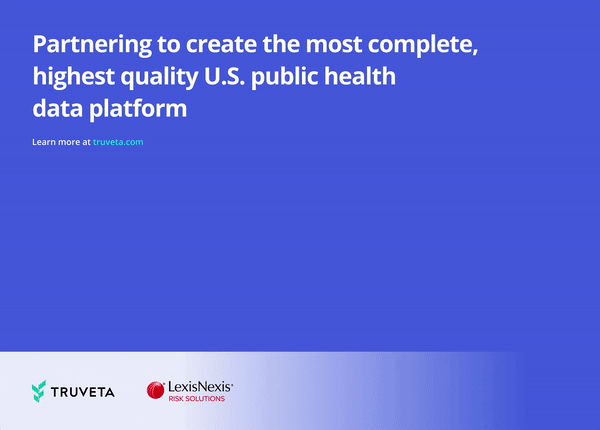 Data also shows that one-third of deaths in our country are due to social factors. This is a great American tragedy. We need to learn more about the impacts of these factors to help more people. Our health system members tell us patient health outcomes are increasingly affected more by factors outside of health system walls. Completing the full picture of patient journeys with comprehensive social determinants of health (SDOH) data is a necessity that lives depend on. By adding critical SDOH data to de-identified daily clinical data, we can learn more about the impact of these socioeconomic factors – like transportation, housing, and food insecurity – on the health of our communities.
We're proud to be making this data available to all of our health system members and life science partners so that they can create clarity on the inequities in health all around us.
I'm so excited for the potential to learn from this comprehensive data coming together for the very first time in an unprecedented data platform for research.
Stay well,
-Terry