In the world of healthcare, few conditions have seen as much transformation over the past decade as diabetes. With 37.3 million Americans living with diabetes, and a further 96 million in the prediabetes stage, it's a life-altering health concern for nearly 40% of the U.S. population. The often-silent epidemic is now the 8th leading cause of death in the country, emphasizing the urgency of better understanding and managing this chronic condition. 
Thankfully, widespread availability of simpler and less invasive devices like continuous glucose monitoring (CGM) systems and automated insulin pumps, as well as novel therapeutics, have contributed to a remarkable evolution in diabetes management. While historically it was the patient's responsibility to monitor glucose levels and medication doses, up to 70% of patients with diabetes now wear some kind of glucose monitoring, insulin-administering technology. 
Uncovering diabetes with Truveta's real world data
With an additional 1.4M Americans diagnosed with diabetes each year and so many new therapeutics entering the market, access to timely real-world data at scale has the potential to transform lives by helping to identify which treatment options work best for different populations. Truveta offers researchers complete, timely and clean daily updated electronic health records (EHR) data from more than 100 million patients, empowering researchers with scientifically rigorous analytics to study safety and effectiveness, improve patient care, and train medical AI. Coming directly from a growing collective of more than 30 health systems, Truveta Data represents 18% of daily clinical care across all 50 states from 800 hospitals and 20,000 clinics, representing the full diversity of the US 
Truveta Data is uniquely positioned to accelerate the pace of discovery and innovation for diabetes. As a chronic disease, the outcomes for diabetes patients are extremely dependent on social factors such as education, health literacy, financial resources, insurance, social support, and more. Truveta's EHR data is integrated with SDOH (along with mortality and claims data) for a complete view of the patient journey. Truveta can access 400+ social attributes to better understand the impact of these factors on clinical care and outcomes. Read on for an overview of the diabetes population available for research, and the top reasons to study diabetes with Truveta.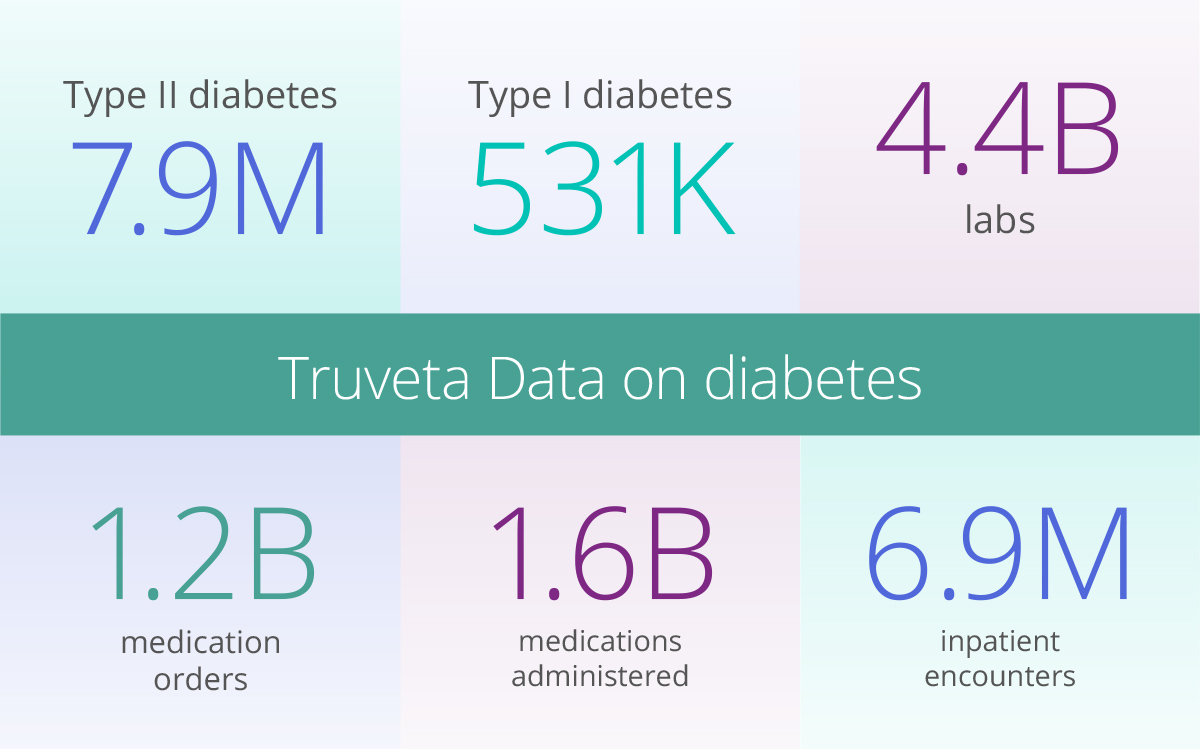 Clinical notes
Access to insights contained in free-text clinical notes allows for a deeper level of patient understanding. For example, some find diabetes care "too expensive" or "are worried about risk of infection via finger pricks." These insights help researchers understand the patient journey and fill knowledge gaps. Truveta Data includes an average of ~75 clinical notes per patient including hospitalization notes, progress notes from clinic visits, and telephone encounters.

Lab results
Unlike traditional data sources such as claims, Truveta Data includes specific lab values – including A1C levels and BMI results. This enables researchers to easily differentiate between patients with diabetes at different points in their journey and monitor treatment effectiveness. When paired with family history data, these test results may also help researchers identify signs of prediabetes. Truveta's diabetes cohort contains 5.7M patient journeys with lab results, including 4.2M patients with hemoglobin A1c, 3.5M with a lipid profile, and 4.5M with longitudinal BMI data.
GLP-1, SGLT2i, and other diabetes medications
Glucagon-like peptide-1 (GLP-1) receptor agonists are currently surging in popularity for their ability to manage blood sugar levels, promote weight loss, improve lipid and blood pressure levels, and provide cardiovascular benefits.  Thanks to the timeliness of Truveta Data, researchers can maximize the available populations for these medications far beyond what is available in claims sources, in addition to medication doses and treatment regimen changes. Truveta's diabetes cohort currently includes 954k patient journeys with GLP-1agonists data and 1.4M with SGLT2 inhibitor data, and 6.1M overall patient journeys with medication prescription data.
Provider type and site of care details
Current Truveta customers are finding it useful to distinguish between patients who manage their diabetes via primary care appointments, endocrinology support, or only at emergency points via the emergency department/hospital as these patients all have very different experiences.
Medication dispense data
Inclusive of prescription fill data from specialty pharmacies, med dispense data helps researchers understand patients' actual use of medications. With non-adherence affecting nearly 40-50% of those with chronic conditions, these data help provide the most complete picture of the de-identified patient journey.
Device-level data
While most datasets do not obtain or capture information on medical device brands or specific Unique Device Identifiers (UDI), Truveta specifically requests and pulls UDI from within a patient record. This information is then mapped to the Global Unique Device Identification Database (GUDID) to add detailed device information. For a researcher interested in studying CGM devices, these data could be used for comparative effectiveness, or for understanding which insulin pumps should be recommended as a partner device based on patient outcomes.