2021 was another incredible year. Our world continues to be different in so many ways as the effects of COVID-19 continue to challenge us. It has been nice to have glimpses of normalcy, while we continue to look toward more positive progress. It's always such an interesting experience to reflect on the year behind us.
It's hard to not look back on this year and think about COVID and the impact on my family and friends. This past summer, the wife of my good friend from high school died of COVID complications. Like so many of you, the heartbreak of COVID is real. My heart goes out to each of you that has experienced loss.
At the same time, it has been so great to have my kids back in school and playing youth sports again. I feel so thankful to Pfizer, Janssen, and Moderna for the vaccine innovation which has made this return to semi-normalcy possible. These leaders and scientists are modern day heroes for the tremendous work they are doing.
This intersection of innovation and purpose led me to Truveta. Our vision of Saving Lives with Data has become so personal for all of us as we see the opportunity to help advance healthcare. Notably, in this year, we unveiled our Truveta Platform and our first insights, focused on COVID-19. This progress delights me – and makes me hungry to do more. The world needs it. Truveta has some really exciting stuff coming early next year, please follow us on LinkedIn to keep track of our latest!
I am so thankful to the incredible healthcare members who have joined us on this mission. I can so vividly recall the chaos of 2020 with President Trump tweeting recommendations for Hydroxychloroquine, and the World Health Organization "strongly" advising against its use. It was so clear that healthcare needed better data to take care of us.  I feel so honored to now be leading a collaboration of 20 health systems who share our vision and see the opportunity for their collective de-identified data to provide the insights we've all been looking for. Thank you Providence, Advocate Aurora Health, Trinity Health, Tenet Healthcare, Northwell Health, AdventHealth, Baptist Health of Northeast Florida, Baylor Scott & White Health, Bon Secours Mercy Health, CommonSpirit Health, Hawaii Pacific Health, Henry Ford Health System, MedStar Health, Memorial Hermann Health System, Novant Health, Ochsner Health, Saint Luke's Health System, Sentara Healthcare, Texas Health Resources and UnityPoint Health. Together, for the first time, we have data representing the full diversity of our country. I just love this map with everyone on it.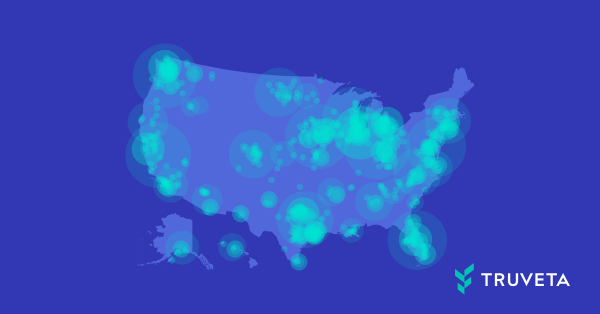 Perhaps the biggest highlight for me this year is seeing the Truveta team grow so rapidly with incredible talent. It is so fun to work with you every day to innovate on something so important to all of our families, friends, and the world at large. It's amazing to look at our team's growth over the year. During our recent Planning week, our People team put together this amazing chart of our recruiting efforts since our prior Planning week in May: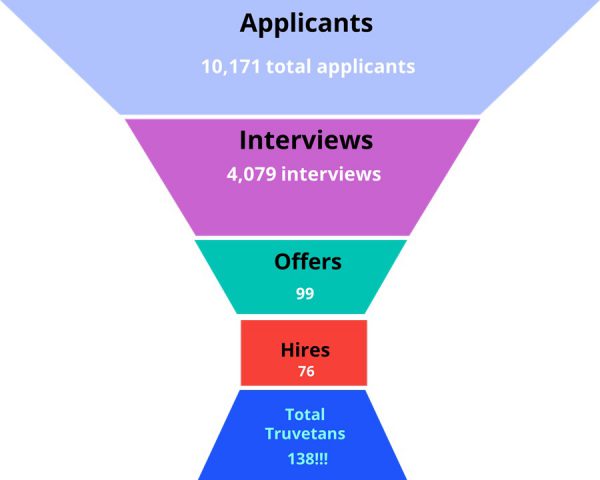 While we have largely worked together virtually, we have had the opportunity to come together as a team to collaborate and have some fun together. In these moments, we're reminded of the specialness of human connection. I look forward to more time together in 2022.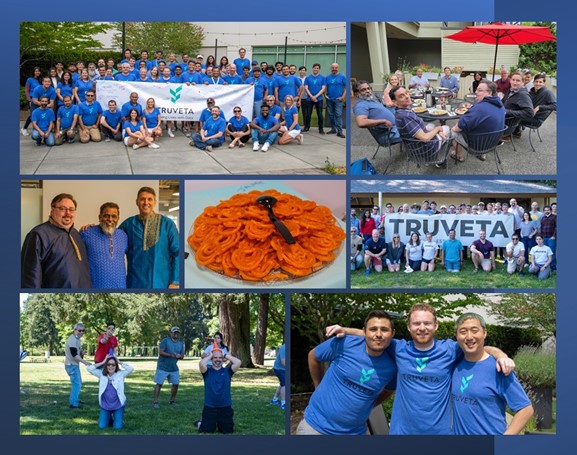 And today, thinking about our progress in building Truveta into a great company – what better way to show our progress than to look at our logo/brand evolution:
In 2020, we were a PowerPoint pitch deck!

Then, in late 2020, we announced we are a company!

And now it's December 2021. We have our frond, our logo, and a vision this inspires me every day.

It's a visual representation of our progress. At each step, we have grown our members and our team, aligned with our vision. 2021 was an important year of building our team, galvanizing our members, and delivering the foundation of the Truveta Platform. I continue to be amazed and humbled by our progress. And, I'm so excited for what's to come in 2022 and beyond.
To wrap, like many of you, I found my Spotify "Top Sounds of 2021" fascinating.  At the top of my list is Bang! by AJR. I had no clue I was such a fan, another testament to the power of AI powered recommendations. I should learn more about AJR! I find the title of the song fitting – 2021 was a bang of a year for Truveta and I'm grateful to those who helped us make progress together.
I hope everyone enjoys a great holiday break with their families. 2022 is going to be a great year!
-Terry