Each year, Fast Company recognizes the innovative ways companies around the globe are working to address today's most pressing challenges with the annual World Changing Ideas Awards. For those who are inspired by creative problem solving and the pursuit of innovation for the greater good, this is the list to watch.
We are thrilled to share that Truveta has been recognized this year as an honorable mention in two separate categories: AI and Data, and Health.
For the first category, AI and Data, Fast Company looked for projects that harness the power of data, machine learning, or artificial intelligence to better understand the world and empower change. Similarly, for the Health category, it looked for medical innovations that save lives, extend longevity, or increase access to care.
Read on to learn how we got here, and how the power of data will save lives.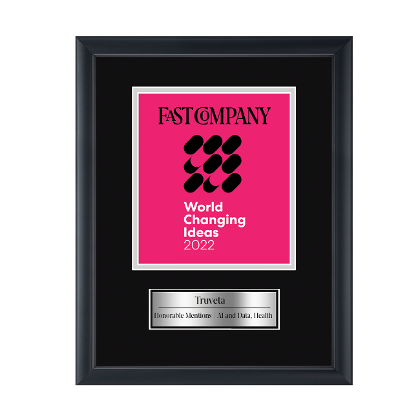 The COVID-19 pandemic created a moral imperative for health systems to come together
Truveta's world-changing idea is rooted in our vision of Saving Lives with Data. During the pandemic, the urgent need for faster collaboration and a unified data platform became abundantly clear. Recognizing this need, innovative health systems came together to form Truveta to offer a solution to a systemic problem impacting the health of Americans. With real-time, de-identified data, Truveta enables researchers to find cures faster, empowers every clinician to be an expert, and helps families make the most informed decisions about their care.
What makes Truveta unique are our unprecedented de-identified clinical data, our platform, and our community. The data represents billions of medical records and is updated daily, including all electronic versions of a patient's medical history, including labs, vitals, diagnosis codes, procedure codes, physician notes, and pathology reports, along with images and genomics. Coming from tens of thousands of sites of care across 42 states (and counting), the full diversity of the country is captured across age, geography, race, ethnicity, and gender.
This data scale enables researchers to gather new real-time insights and delivers generalizable results with statistical power. By offering researchers flexibility and speed with this data set, they can share their insights for quicker response time. Studies previously known to take months or years can instead deliver results in real-time with daily updated data in Truveta.
Advancing health equity with real-time, real-world data
The COVID-19 pandemic has illuminated significant gaps within U.S. healthcare, one of the starkest being the harsh reality of health inequity. During the early days of the pandemic, black people in Michigan represented only 14% of the population but they represented 40% of COVID cases. A quarter of the nurses dying of COVID-19 were Filipino, yet Filipino nurses represent only 4% of the nursing population. And since the beginning of the pandemic, Native, Black, and Hispanic Americans have consistently been hospitalized more than their white counterparts.
The lack of transparency and real-time data throughout the first year of the pandemic contributed to the challenges of these inequities. The CDC data about COVID-19 deaths – especially when accounting for race or ethnicity – lags by weeks, if not months, and is incomplete.
While it will take a multifaceted approach to address health equity, one of the most critical areas Truveta is working to address is access to data representative of all Americans. By providing a real-time, comprehensive view including social determinants of health data, Truveta can help improve health equity and fuel understanding, leading to discovery and better care for communities.
A future fueled by data and innovation
Looking ahead, we see our vision of Saving Lives with Data becoming a reality across our partnerships. For health systems, Truveta offers the ability to collaborate and apply collective de-identified data to improve patient care, advance health equity, and expedite understanding of rare diseases. For clinical researchers, it's a learning community, enabling them to build on each other's work across health systems; readily share data-driven questions and answers; and improve the speed to produce informative insights. For life science companies, it is the unprecedented access to real-world data on how any drug or device is currently being used every day across the U.S., enabling researchers to find cures faster.
We are so thankful to be recognized by Fast Company for our work and hope you will continue to follow our journey.