Hidden under the surface of daily life, a disease often referred to as a "silent killer" is slowly taking hold over millions of Americans. While approximately 4.5M US adults have received a diagnosis of liver disease, a far larger yet largely unaware group is treading a path toward chronic liver disease. Recent estimates suggest that a staggering 80-100M Americans – nearly a quarter of the population—might be living with non-alcoholic fatty liver disease (NAFLD), often without any early symptoms to raise the alarm.
Thanks in large part to new therapies for treating hepatitis C, NAFLD has emerged as the primary driver of chronic liver disease. NAFLD rates have been increasing over the past 30 years, paralleling increasing rates of obesity and type 2 diabetes. The other leading cause of chronic liver disease, alcoholic liver disease (ALD), has also been increasing over the last decade. This was made starkly apparent during the pandemic, when deaths from alcohol-related liver disease increased by 23% in just one year.
Despite growing public concern surrounding these conditions, there are currently no FDA-approved medications designed specifically to treat either NAFLD or ALD. Liver disease, with its wide range of conditions and causes, poses a complex healthcare challenge. Left unchecked, it can progress to liver failure or liver cancer, both of which may require liver transplants to save lives.
Adding to the complexity is nonalcoholic steatohepatitis (NASH), the more severe form of NAFLD. NASH is characterized not only by excess fat accumulation, but also inflammation and liver damage. NASH is expected to become the leading reason for liver transplantation in the US by 2025.
As we explore these intricacies, the importance of better data in understanding, preventing, and treating liver disease is clear – and will ultimately save lives.
Liver disease patients available for study with Truveta
For healthcare and life science researchers seeking to unravel the complexities of liver disease, Truveta's complete, timely, and clean EHR data is an invaluable resource for gleaning insights. Current Truveta customers, like Boehringer Ingelheim, are working to discover new ways to speed diagnosis and identify treatment pathways for patients with NASH.
Truveta Data is updated daily from more than 30 health systems and includes electronic health records (EHR) with full diagnoses scores, labs, images, clinical notes, and more. EHR data is linked across health systems and integrated with social drivers of health (SDOH), mortality, and claims data for a complete view of patient journeys.
Below, we dive into more detail illustrating the liver disease population available for research with Truveta Data.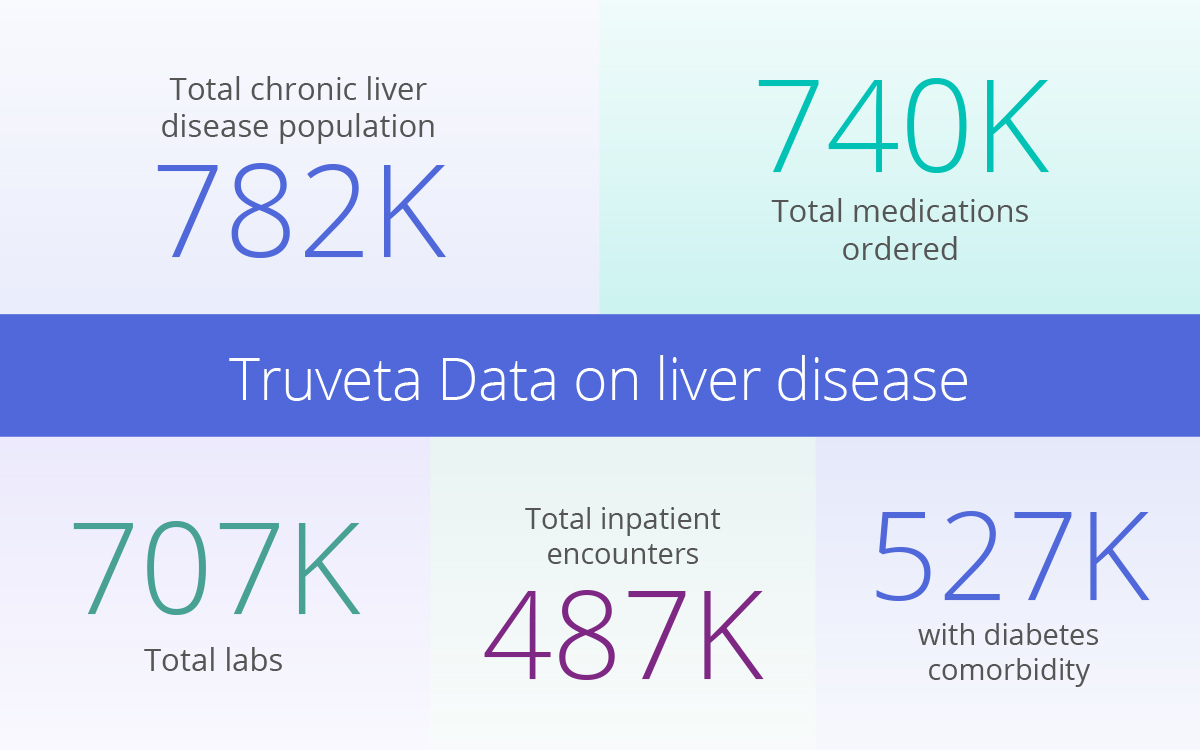 Use cases for studying liver disease with Truveta Data
Currently, Truveta has nearly 800K chronic liver disease patient journeys ready for research, including scores and details for over 700K labs and 740K prescriptions. Researchers will also find a full demographic breakdown, top comorbidities, inpatient and emergency encounters, and more.
All studies created with Truveta are built upon daily updated data across all 50 states and can be analyzed across multiple use cases, including:
Safety and effectiveness monitoring of newly launched therapeutics without the lag time of traditional sources such as claims data.
Studying specific clinical data, such as biomarkers that aid in predicting progression from NAFLD to NASH to fibrosis.
Analyzing how specific medications impact chronic liver disease progression, including lipid and weight loss management drugs such as statins or GLP-1 agonists.
Tracking Liver Disease
Following liver disease involves several types of tests which are crucial for monitoring disease progression and can help healthcare professionals guide patients through appropriate treatment and lifestyle changes. Truveta's complete EHR data provide granular clinical information about liver disease progression, not found in claims data. These critical details can help researchers identify ways to advance patient care. Examples include:
Liver function tests (LFTs) that check various enzymes and proteins produced by the liver such as ALT (alanine aminotransferase), AST (aspartate aminotransferase), and bilirubin. Truveta Data includes liver-specific lab results such as ALT/AST/bilirubin and lipid panel results for ~670K patients or 85% coverage of the population.

Imaging tests to detect abnormalities, measure liver fibrosis (the level of 'scarring' of the liver), and diagnose specific disease processes affecting the liver. Truveta Data includes access to full images including CT scans, MRIs, ultrasounds, and digital pathology.

Fibrosis and cirrhosis assessment by various scoring systems via liver biopsy and laboratory (such as FIB-4). Truveta Data includes 63K fibrosis scores and 56K liver fibrosis staging results.
New chronic liver disease treatments on the horizon
Thanks to increased prominence in recent years, chronic liver disease is now a prime focus for many pharmaceutical companies, including current Truveta customers.
As of last month, the FDA has accepted for review the New Drug Application for novel treatment resmetirom, which has shown promising results in reducing liver fat deposition and reducing liver stiffness.  As this and other innovative therapeutics reach patients, researchers can monitor all post-approval drugs with daily updated data from Truveta.
Learn more and request a demo: Contact Us – Demo | Truveta