Parkinson's Disease (PD), a neurological disorder that affects movement and coordination, impacts roughly 1 million Americans with another 90,000 being diagnosed each year. According to the Parkinson's Foundation, there is a new diagnosis every 6 minutes in the US. Despite these numbers, the standard of care since the 1970s remains largely unchanged, with levodopa being the main drug treatment since its approval over 50 years ago.
While levodopa addresses and helps control the symptoms of PD, it is not a disease-modifying drug. With approximately 145 registered clinical trials actively working on both symptomatic relief and disease-modifying types of therapeutics, finding a treatment that changes the progression of the disease remains an elusive but core goal for researchers. Aligned with April's Parkinson's Disease Awareness month, we're highlighting how Truveta is uniquely positioned to support PD research with the most complete, timely, and cleanest EHR data on US health.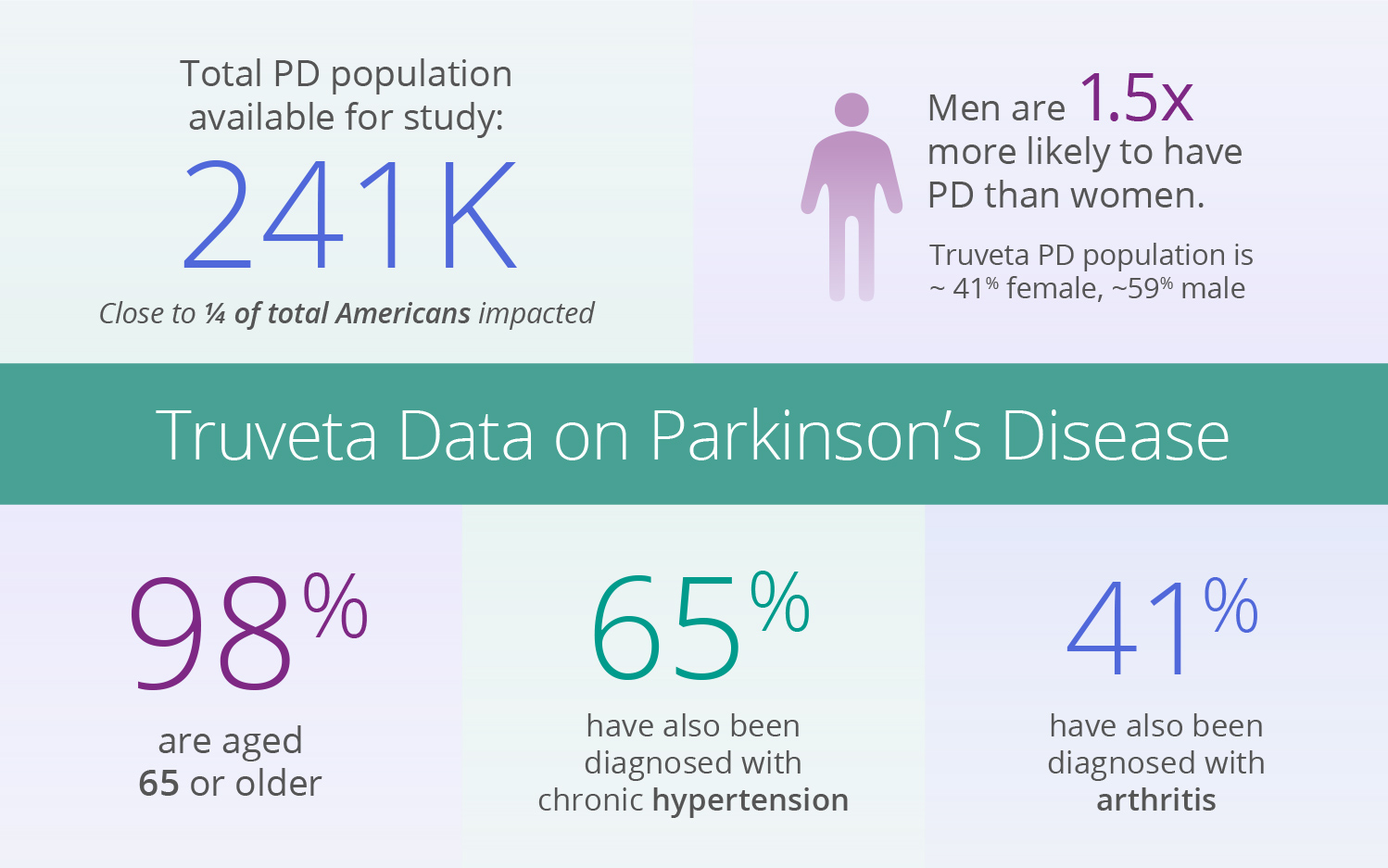 Parkinson's Disease patients ready for study
Truveta Data is updated daily from 28 health system members and includes electronic health records with full diagnoses, vital signs, lab tests, clinical notes, and more. Truveta Data is linked across health systems and augmented with social drivers of health (SDOH), mortality, and claims data for a complete view of patient journeys. Truveta Studio currently has 241,000 Parkinson's Disease patient journeys ready for research – representing nearly a quarter of the US population suffering from the disease. This PD cohort can be studied across a variety of use cases, including:
Surveillance of specific drugs or combinations of drugs, including prescribing patterns over time
Safety monitoring of newly launched therapeutics without the lag time of other data sources
Examine patterns of dyskinesia – a common PD complication – via normalized clinical notes data
Discover clinical trial participants through direct linkage with healthcare systems
Unlock insights within clinician notes
Understanding the full patient journey requires more than the number of prescriptions or hospital encounters. Researchers need information that exists only in clinician notes – on factors such as disease stages, adverse events, medication change rationales, and disease symptoms to make fully informed analyses. For example, a typical structured dataset might include a medication and later a diagnosis of a rash, but the clinician note is the only place where those two concepts are connected, showing the rash as an adverse reaction to the medication.
To unlock the power of clinician notes, Truveta created the Truveta Language Model (TLM), a large-language, multi-model AI model for transforming EHR data into clean and accurate data points for research. TLM combines general large language models that understand English with rich medical expertise to structure concepts from clinician notes – with more than 2.5 billion of them found in Truveta Data and growing every day.
Therefore, researchers can now look at the Truveta PD population of 146,000 who have received a prescription for levodopa to better understand dyskinesia complications. Or, they can analyze the population of 1K on istradefylline, approved by the FDA in 2019 and with a new mechanism of action, and look at the notes before and after it was started to see if symptoms have improved.
Track new therapeutics launches with daily updated data
While claims and other data sources can have long lag times and have commercial bias, Truveta Data on newly launched therapeutics are available within Studio as soon as they appear in the EHR record. While levodopa has long been the standard, the market for new therapeutics is expected to rapidly expand. Seven new drugs have been approved in the last 5 years, and the market value is expected to reach $8.3B by 2026. As new therapeutics hit the market, Truveta Studio is uniquely positioned to provide researchers with daily updated data to track new therapeutics without months-long delays. These data can inform what drugs patients are switching to/from in relation to new products, analyze patient profiles, prescribing patterns, and more to advance patient care and outcomes.
By leveraging the power of Truveta Studio, researchers can speed time to previously inaccessible insights and, hopefully, be at the forefront of finding a cure.
Learn more and request a demo: contact us.