The Wall Street Journal recently published a story, If Your Toddler Isn't Talking Yet, the Pandemic Might Be to Blame, based on a new pre-print published by Truveta Research on MedRxiv, which investigated speech delays in children under age 5 as an unexpected outcome of the COVID pandemic.
Truveta's Principal Research Analyst Brianna Cartwright shared with us how this research idea originated, what the team found, and how she was able to perform a fast analysis with daily updated data in Truveta Studio.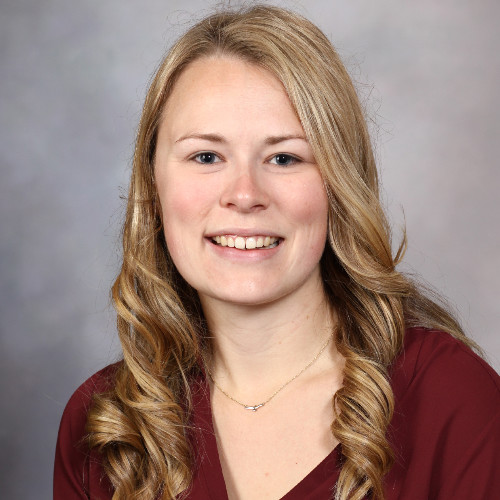 First, what's your role at Truveta?
At Truveta Research, I lead our insights work that includes digging into Truveta Data firsthand, generating hypotheses, and using Truveta Studio to answer new questions. This also includes working on public health topics of interest to me and reporters like Sarah Toy at The Wall Street Journal to answer questions for a story that can be answered with our data.
How did the idea for research on speech delays in young children come about?
I'm good friends with a speech and language pathologist, who specializes in working with children ages 0-3 years old. Throughout the pandemic we regularly chatted about challenges that came with shifting from delivering speech therapy remotely, including ensuring parents and kids were engaged over the computer when they had many other things going on in their lives. As they returned to in-person therapy, new challenges emerged in teaching parents how to perform speech articulations while both parents and therapists were wearing masks.
More recently, she would talk about how her case load was increasing. I got curious: was this just happening at the clinic where she works or a larger trend as a result of the pandemic?
What did the results show?
The results of this study showed a significant increase in the rate of children under age 5 being diagnosed with first-time speech delays in 2021 and 2022, compared with pre-pandemic rates in 2018 and 2019. We saw this result overall and when exploring each age group individually. The increases we found in this study likely occur before the therapy has even begun.
The results of this study in conjunction with my friend's experience and published literature show the challenges of delivering therapy during the pandemic, indicating that not only are kids getting diagnosed at higher rates, but also therapy for those kids was harder to administer, potentially compounding the effects.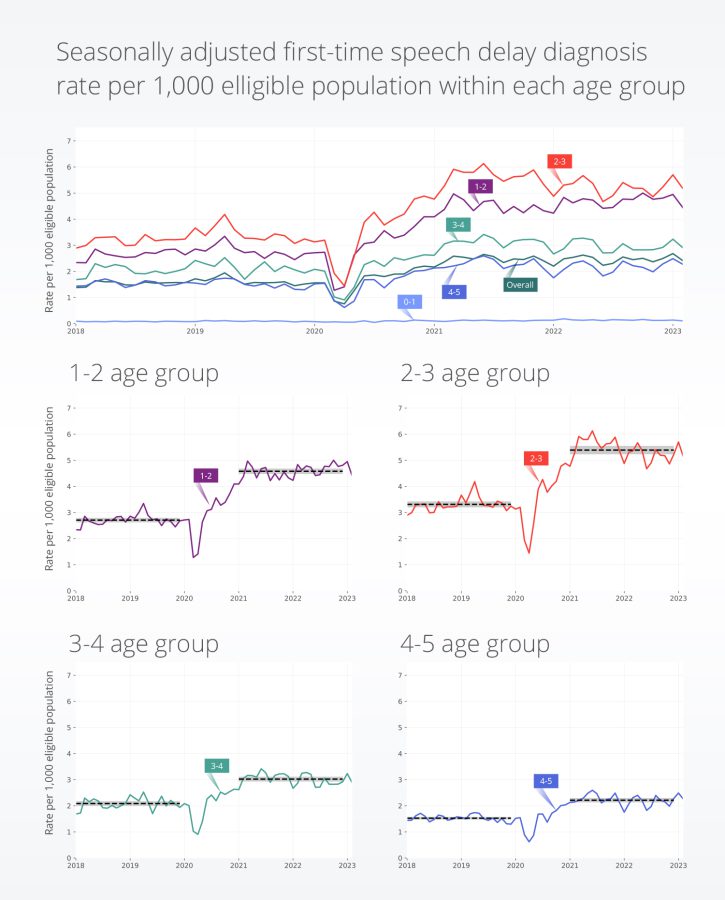 How did Truveta empower you to do this research?
Over the past few months, this study has become my passion project. Whenever I had a spare hour, I would dig back into these data to see what I could find.
I see Truveta empowering this research in three ways:
Data Definitions: We built the definitions used in this study from two data definitions that already existed in the Truveta Library.
Timely Data: Truveta Data are incredibly timely. The data used in this study were accessed on March 31, 2023, and the study included data through the end of February 2023. It is extremely powerful to have access to daily updated data when we think about the fact that by the time most research gets published it is over three years old.
Population size: The number of patients included in this study and within Truveta Data give us confidence that the experiences of one speech and language pathologist, in one clinic are not isolated events, but rather may be representative of a national trend.
Of course, all research leads to more questions. What else are you interested in studying after doing this analysis?
One thing I love about my job at Truveta is as we answer one question, it prompts so many more questions we get to ask and answer. Related to this topic, I'm curious about geographic differences. Did states with more/longer lockdowns in place have increased rates compared to states with fewer/shorter lockdowns? Do we see variation by children with parents who had essential jobs where they needed to be at their place of work compared to parents whose jobs shifted to completely remote work? Social drivers of health data (SDOH) that we have available through our partnership with LexisNexis Risk Solutions, combined with Truveta Data, can help us dig into additional questions like these that require employment, income, or other non-EHR data to understand.
The pandemic affected almost everything about where we work, how we interact with others, where we spend our time, and so much more. We're curious to continue learning about how the pandemic may have affected mental health, healthcare delivery practices, and delays in care. As our world continues to find a new normal, Truveta Research is curious to dig into more trends coming out of the pandemic.