Every 40 seconds, someone in the United States has a stroke. Every 3 minutes and 14 seconds, someone dies from a stroke. The fifth leading cause of death in the US and a leading cause of adult disability, 7.8 million adults have experienced a stroke in their lifetime. May is National Stroke Awareness Month, dedicated to raising awareness for this disease that can cause lasting brain damage in a few short minutes. Public campaigns often focus on symptoms and risk factors, with an emphasis on growing awareness of the connection between stroke and high blood pressure (hypertension).
Recent advancements in stroke research include a focus on acute treatments to restore brain blood flow, including clot-dissolving medications and special catheters, and more novel approaches such as brain and nerve stimulation therapies to return blood flow to the brain. With the most complete, timely, and clean EHR data, Truveta's RWD can support stroke research and speed time to insights in hopes of continuing the overall decline in stroke rates and providing better care for the nearly 800,000 Americans who have a stroke each year.
Below we dive into some of the details of the data available within Truveta Studio to study stroke and deliver fast insights to improve outcomes.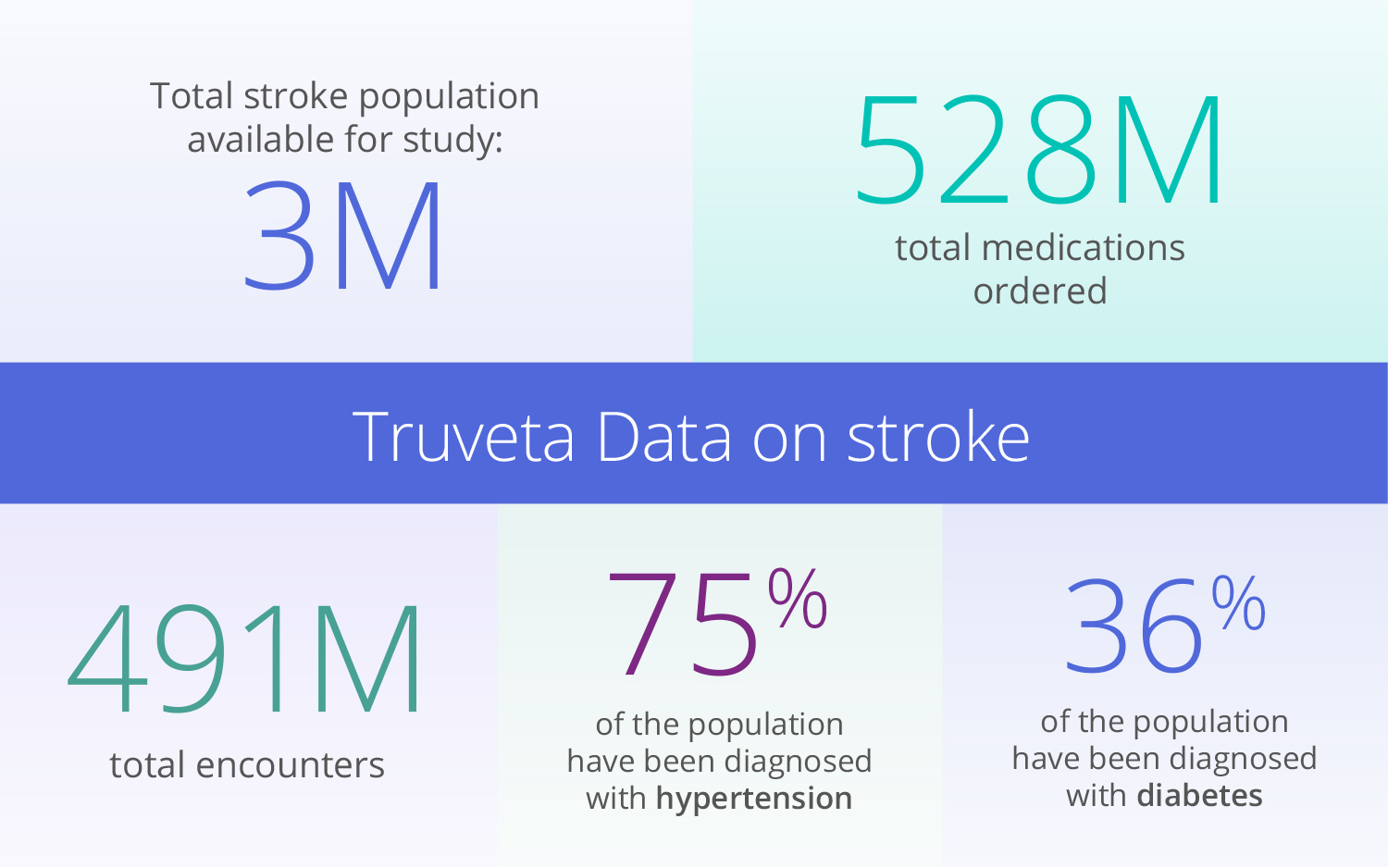 Stroke patients ready for study
Truveta Data is updated daily from more than 30 health systems members. Unlike claims data which lacks lab values, symptoms, side effects, and clinical outcomes, Truveta Data includes the full medical record, including full diagnoses, vital signs, lab tests, and more. With Truveta, daily updated EHR data is linked across health systems and integrated with social drivers of health (SDOH), mortality, and claims data for a complete view of the patient journey.
Beyond the 3M stroke patients available for study, this population includes data from 491M encounters, 1.68B diagnoses, and 528M total medications ordered.
Researchers using Truveta Studio also gain access to notes and images, with an average of 75 clinical notes per patient. These notes, including discharge notes and lab reports, can help researchers unlock details like disease symptoms and reasons for medication changes that are not available through other data sources. Full access to images, including MRI's, CT scans and X-rays, allows researchers to better understand diagnosis, treatment, and prognosis.
Disparities in stroke and hypertension
Unfortunately, risk and associated outcomes for stroke are not equally distributed among racial and ethnic groups, which is true for many other public health challenges. The risk of having an initial stroke is nearly twice as high for non-Hispanic Black adults as it is for white adults. The prevalence of hypertension is higher for this group as well. Non-Hispanic Black adults and Pacific Islander adults have the highest death rates from stroke.  
Beyond racial and ethnic disparities, regional differences have been identified in stroke risk. The term "Stroke Belt" refers to a cluster of southeastern states, where data from the CDC going back 40 years shows risk for stroke is at least twice as likely than for individuals residing in other parts of the country. The Stroke Belt stretches from the Carolinas down to Louisiana and extends into parts of the Midwest, serving as a stark reminder of the disparities of wellness and care that exist across the US.
Within the Stroke Belt, several factors converge to create an environment that fosters higher rates of stroke and its associated consequences. These include socioeconomic factors such as higher poverty rates and limited access to healthcare, lifestyle and behavioral factors such as diet and tobacco use, as well as a larger proportion of racial and ethnic minorities who face high rates of stroke. Harnessing the power of Truveta's nationally representative EHR data combined with comprehensive social drivers of health data – 400+ SDOH attributes via our partnership with LexisNexis Risk Solutions – can enable researchers to better understand the impact of lifestyle and social factors on clinical care and outcomes. By incorporating SDOH data into stroke research, researchers can work to identify patterns and correlations between these drivers and stroke disparities, helping pinpoint the root causes of inequities and inform targeted interventions.