October was a whirlwind month for Truveta, marked by participation in various conferences across the United States. In the span of less than 10 days, Truveta experts and customers presented at four different events, showcasing how Truveta Data is being used to enable groundbreaking comparative effectiveness research, identify complex populations, gauge the real-world impact of diagnostic delays, determine patient outcomes by device type, and more. Here are some of the highlights: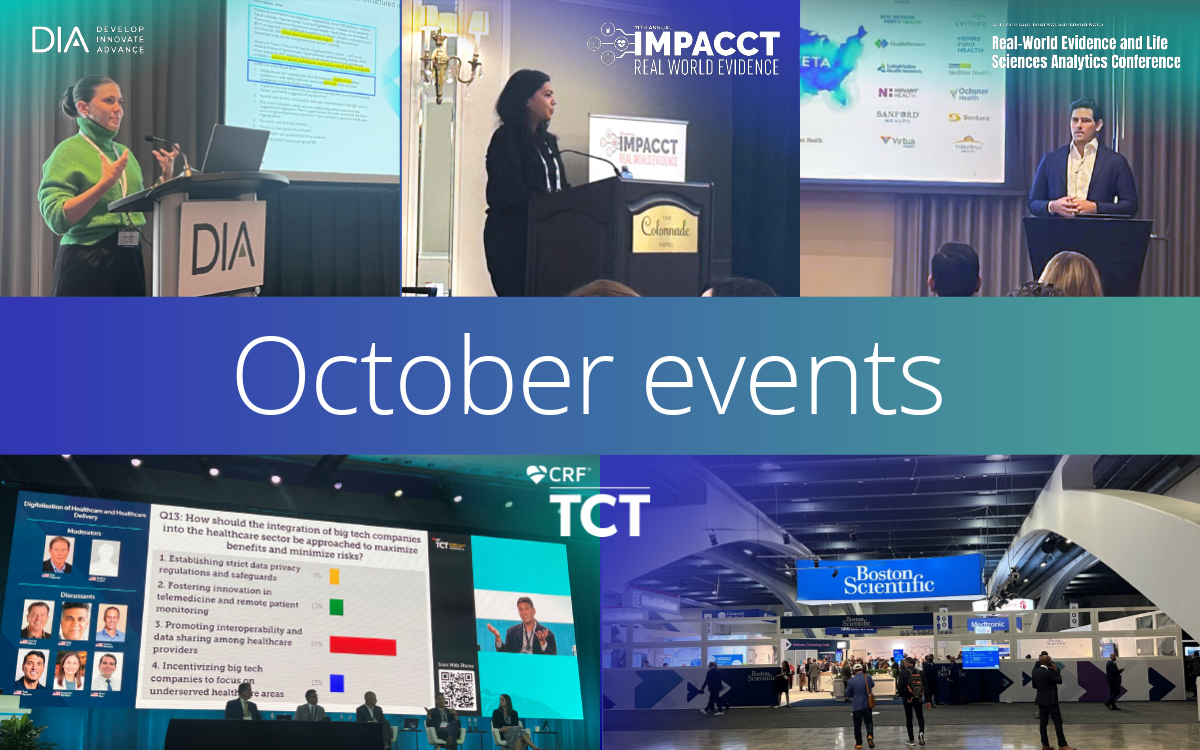 Truveta's VP of Life Science Research Success, Sally Omidvar, joined forces with Michelle Iannacone, an epidemiologist in Pfizer's safety surveillance research group, to discuss how Truveta Data was used to identify patients with Long Covid. By querying 90 million EHR patient records, they deciphered nuances between ICD-10 code-based definitions and CDC symptom-based Long COVID definitions, which required use of a computable long COVID definition in Truveta Studio. Notably, this research uncovered interesting demographic and clinical differences between patients identified through these different approaches, highlighting the need for standardized definitions and coding.
In Boston, Conor Wyand, senior director of research solutions, showcased how real-time EHR data can unlock novel evidence generation opportunities. He highlighted examples of how Truveta Data has been used to track trends in first-time GLP-1 prescriptions, facilitate more precise comparative effectiveness research through access to ejection fraction data, and de-risk clinical programs through dynamic testing of inclusion/exclusion criteria and analysis of contemporary standards of care.
IMPACCT RWE (October 24-25, Boston)
Harshita Ravishankar, director of research solutions, presented case study examples of how Truveta Data is being used to transform safety and effectiveness research at IMPACCT RWE in Boston. Her review of data on disparities in peripheral artery disease (PAD) got a lot of attention. In the session, she highlighted research showing differences in rates of revascularization procedures for PAD by racial and ethnic group, differences in the devices used in those procedures, and differences in outcomes by device type, including lower-limb amputation, 30-day all-cause readmission, and one-year repeat revascularization.
TCT (October 23-26, San Francisco)
In San Francisco, Truveta's CEO and Co-founder, Terry Myerson, participated in a panel on the "Digitalization of Healthcare and Healthcare Delivery." Ryan Ahern, Truveta's CMO and Co-founder, delved into new perspectives on endovascular strategies for pulmonary embolism treatment. And perhaps most notably, the Real-World Experience of Contemporary Pulmonary Embolism Treatments (REAL-PE) study, presented by Dr. Peter Monteleone of Ascension Health, and later discussed in the Boston Scientific Hub, highlighted a real-world comparative effectiveness study conducted using Truveta Data. The analysis compared safety events for those receiving interventional treatment for pulmonary embolism with the Boston Scientific EKOS Endovascular System or the Inari FlowTriever system between 2009 and 2023. Specifically, the study evaluated major bleeding events as well as in-hospital mortality and all-cause 30-day readmission rates. The analysis is the largest comparative effectiveness study to use real-time, health system based EHR data to understand clinical practice and outcomes for pulmonary embolism.
Don't miss Truveta at ISPOR Europe (November 12-15)
The Truveta team is now gearing up for ISPOR Europe. Truveta's Ryan Ahern and Katia Hannah, lead HEOR research specialist at Dexcom, will be delivering a theater presentation on how real-time EHR data can inform faster responses to market and safety signals. Several of our research experts will also be sharing recent studies featuring real-time data on GLP-1s, HIV treatment, and APOE genetic testing. Meet us there.