We are entering a new era of Alzheimer's Disease research. Researchers from the University of Tsukuba in Japan along with IBM Research have recently developed a mobile app to detect Alzheimer's using speech data. New research suggests deep brain stimulation while sleeping may improve memory and could potentially support those with Alzheimer's, or that deep sleep itself may protect against associated memory decline.
Until this year, the only mode of treatment available for Alzheimer's was symptomatic therapeutics that do not alter the course of the disease. Now, brand new drugs that have shown disease-modifying effects — lecanemab (Leqembi) and donanemab — are seeking approval and giving researchers and families a new sense of hope for the future of treatment.
To study these and other cutting-edge therapies, Truveta Data provides the most complete, timely, and clean EHR data that is updated daily data from more than 30 health system members. With the largest EHR dataset for Alzheimer's, Truveta is uniquely positioned to enable research and innovation for the disease.
There is a strong pipeline supporting potential breakthroughs that could impact patient lives in the near term. Currently, there are 187 active Alzheimer's clinical trials — a record high — representing 141 unique drugs. This is hopeful news for the more than 6.7 million Americans (almost two-thirds of which are women) living with Alzheimer's Disease. Alzheimer's, the most common form of dementia, also takes a devastating toll on families, caregivers, and society.
Below, we dive into more detail illustrating the depth of data accessible within Truveta Studio to study Alzheimer's Disease and deliver fast insights to improve patient outcomes.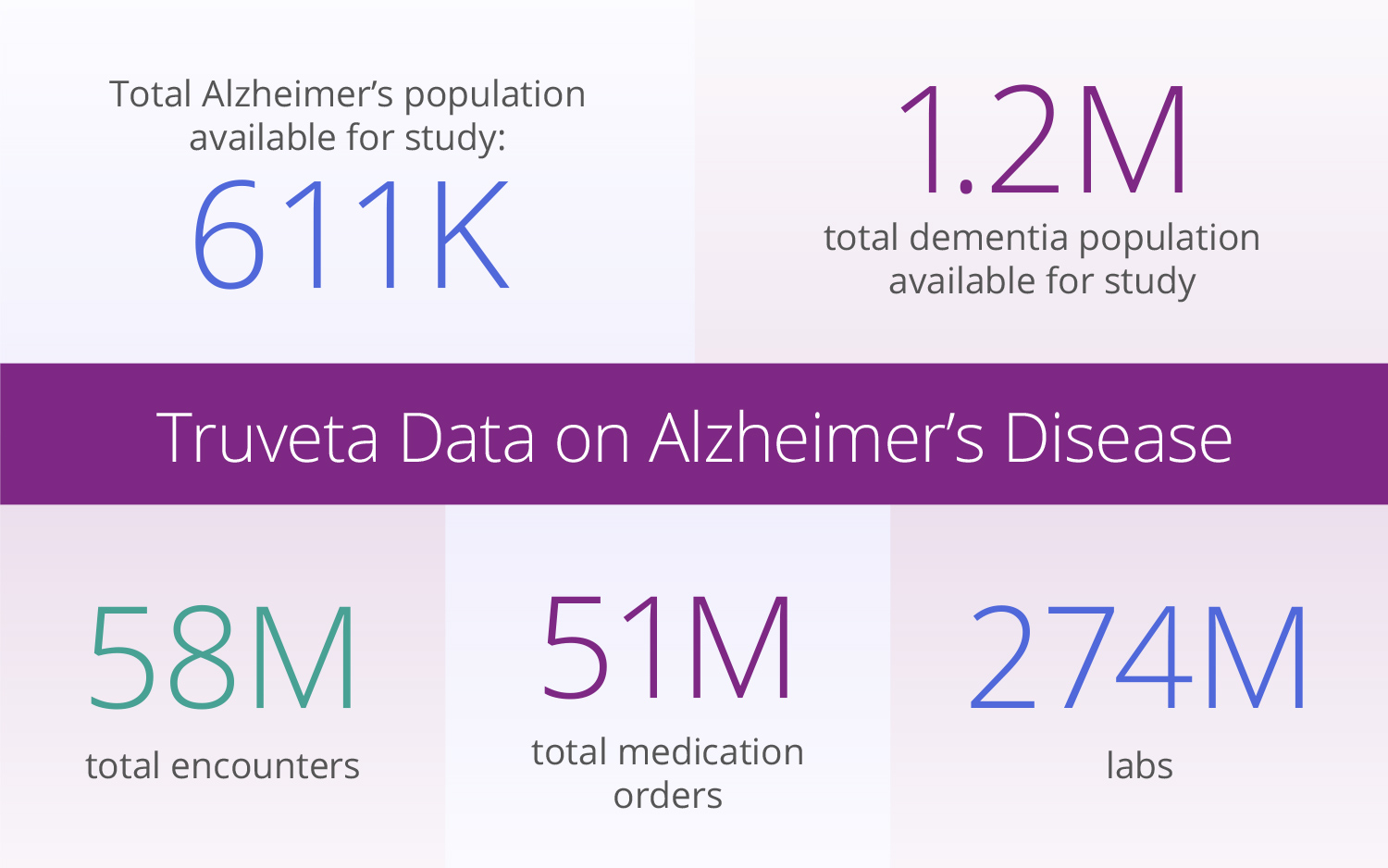 Cognitive assessment data 
Truveta Data comes from nearly 100 million patients in all 50 states, from more than 800 hospitals and 20,000 clinics. While much research today is based on claims data which lacks lab values, symptoms, side effects and clinical outcomes, Truveta provides access to the full medical record including medical imaging and unstructured clinical notes.  
For Alzheimer's research, this deep data includes cognitive assessment data extracted from notes and flow sheets, neither of which is available in claims data. Cognitive assessments, such as MoCA or MMSE testing, play a vital role in the diagnosis and management of Alzheimer's, evaluating various aspects of cognitive function and tracking changes over time. These assessments – many of which are represented in previously inaccessible clinical notes – also help in developing personalized care plans and targeted support, providing much needed context to monitor safety and effectiveness of new therapies.  
Emerging therapies 
Since Truveta Data is updated daily, researchers can monitor all newly launched, post-approval drugs in real time with Truveta Studio as soon as they appear in the EHR record.  With new drugs in the FDA approval queue, researchers will be able to access information such as what drugs patients are switching to/from in relation to new products, and analyze patient profiles, prescribing patterns, and more to advance patient care and outcomes.  
As for the rest of the therapeutic pipeline, nearly 57,000 patients are still needed to fill all available trials. Thanks to our direct partnerships with over 30 member health systems across the country, Truveta is uniquely positioned to support and accelerate diverse clinical trial recruitment to deliver cutting-edge therapies to the market even faster.  
Research possibilities: How the approval of a new drug impacts genetic testing
The emergence of novel Alzheimer's therapies calls for a deeper understanding of their impact, which can only be achieved through access to the complete medical record. In a recent study for Reuters, Truveta Research examined trends in APOE genetic testing by Alzheimer's patients using deep EHR data from Truveta.  
Clinical trial results suggest that among people treated with lecanemab, those who have the APOE4 variant experienced higher incidence of brain swelling and/or small hemorrhages than non-carriers. Using a subset of Truveta Data, Truveta Research found that testing for the APOE4 gene variant among Americans being treated for Alzheimer's has more than doubled from a year ago.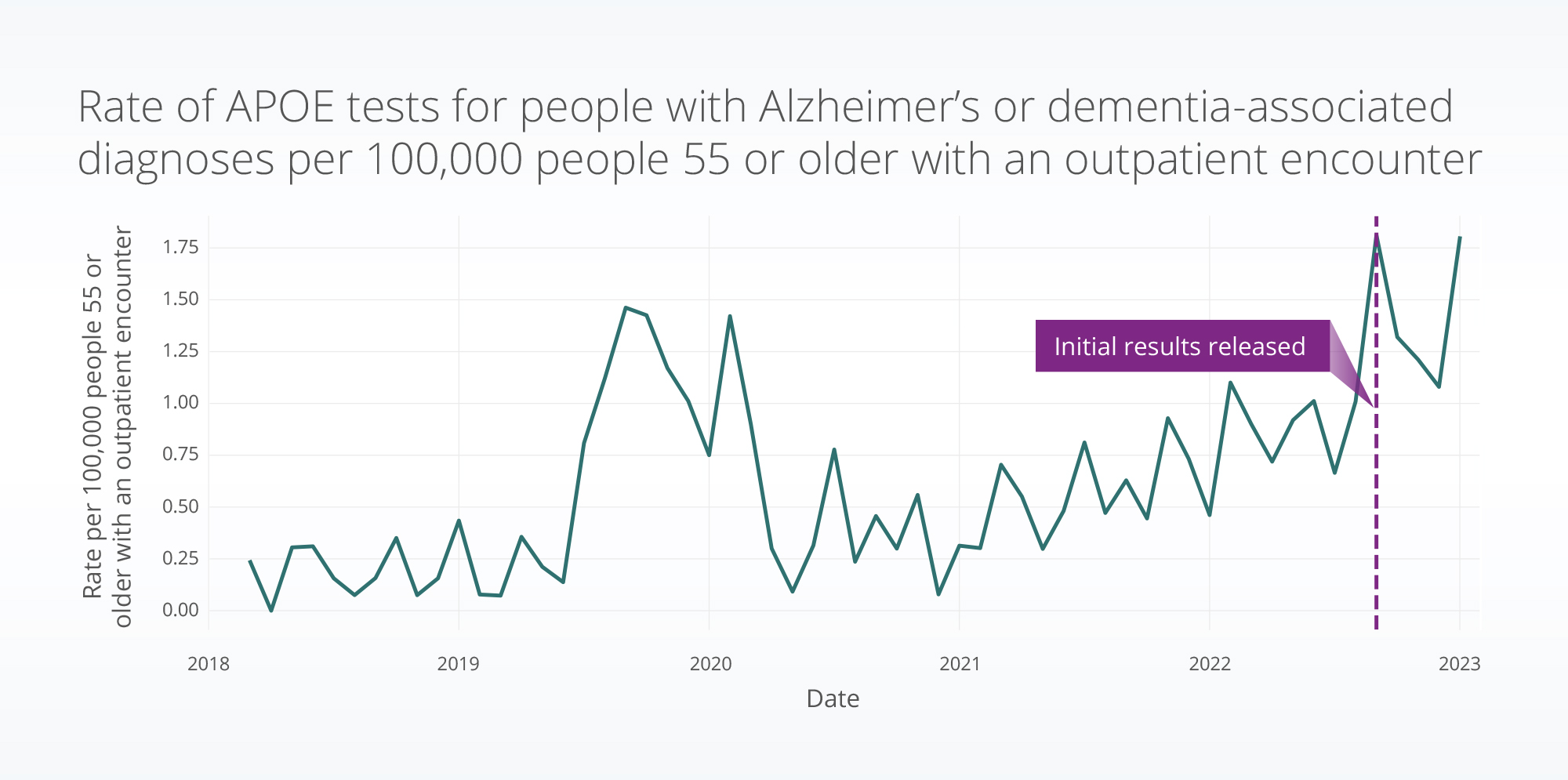 This increase in APOE genetic testing from Sept 2022 – Jan 2023 compared to one year prior may suggest there is an increase in this testing due to the desire to pursue treatment with lecanemab. Truveta Research will continue to follow these trends, as well as trends related to lecanemab access and use following full approval.
Looking forward
Just last week, an advisory panel for the FDA voted unanimously that lecanemab shows "clinical benefit," paving the way for a full approval that could come as early as next month. Meanwhile, the Centers for Medicare and Medicaid Services has already announced it will pay for new Alzheimer's drugs that are granted full FDA approval, opening the door for prescriptions to rapidly accelerate soon. Efforts are already underway to see if giving these new drugs even earlier can have a bigger impact and slow the progression of the disease.
We are at the forefront of an exciting new chapter in Alzheimer's Disease research, where new discoveries are poised to enhance the lives of millions of patients, as well as their families. By leveraging the power of Truveta Data, researchers can speed time to previously inaccessible insights and contribute toward a growing understanding of the complexity of the disease.
Learn more and request a demo: truveta.com/contact-us/